Hello loves,
It's Wednesday. Easter is in four days. April is next week. What is going on?! Am I the only one that feels like these past three months have flown, and I mean
flown
by?
The past few days have been quite loverly. Errands with my mummy. Chit chatting with a friend. School... bleh. Patiently waiting for my kitty to have her kittens. (yay yay yay!!) Movie night with the siblings. (Judy Moody and the Not So Bummer Summer is adorable!)
Spring is officially here! Well, according to my calendar it's officially here, but Kansas just hasn't gotten the memo yet. See: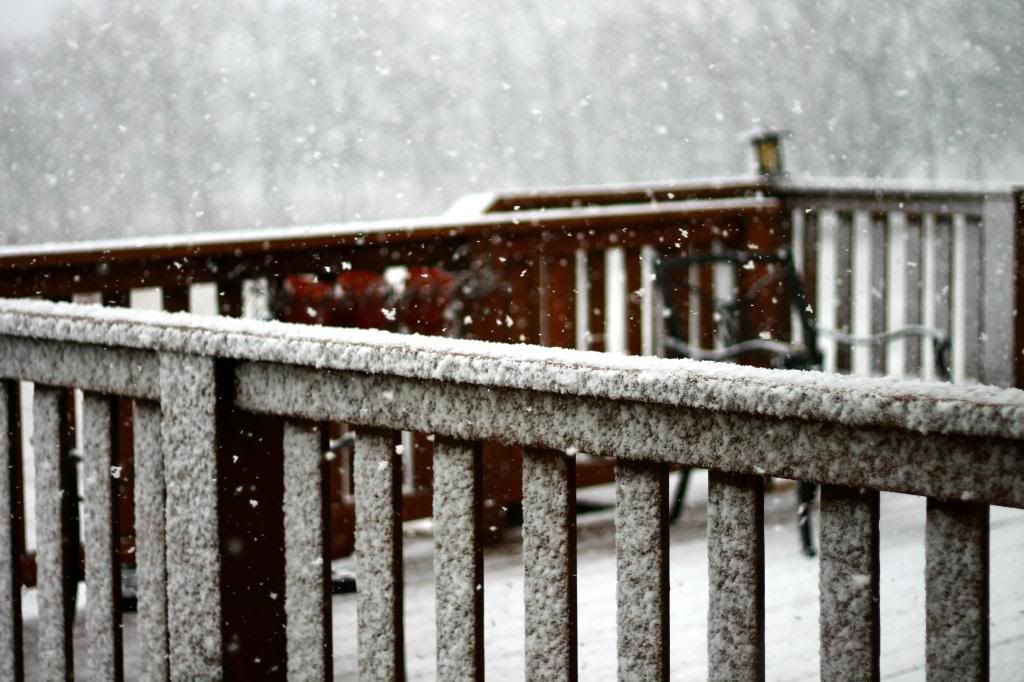 Haha, actually that was from a few days ago. Today the sunshine came out for the first time in what felt like weeks. The snow has almost melted. (Hallelujah!)
Anyways, today I'm sharing my spring beauty essentials with y'all! Makeup, nails, and fragrance. I've been doing lots of shopping lately and have been spoiling myself with new lipsticks and weekly home manicures. (I made it my vow this year that I would paint my nails every week, and so far I'm keeping that promise!)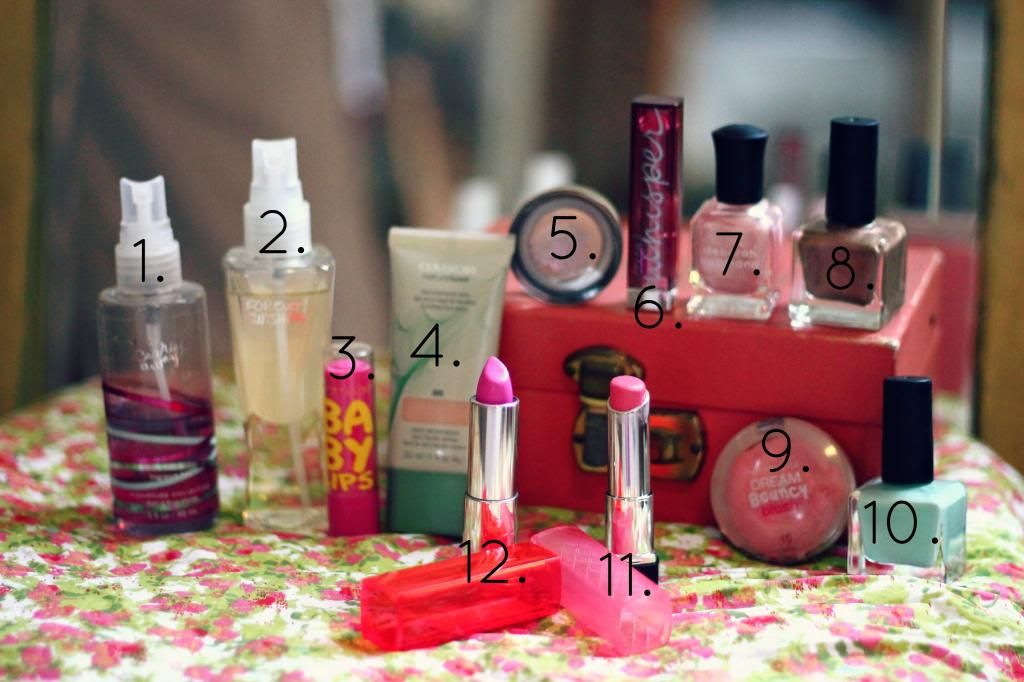 So sorry that you can't read the words on all of the products and that some of them are blurred out. That's the downside of a 50 mm lens. :/
1) Bath and Body's Carried Away Perfume
This is such a lovely, whimsical scent. It's very light, but
not so light that it fades away.
2) Bath and Body's Forever Sunshine Perfume
The description on the website said that Forever Sunshine captures the romance of summer days and I think it does exactly that. This is one of those scents that when you smell it you just know that is a fragrance for summer time. A slightly heavier scent than Carried Away; Forever Sunshine has been my go-to perfume.
3) Maybelline's Babylips in Pink Punch.
Babylips have been all the rage for about a year now, so
chances are you've heard of them and probably even own one. Pink Punch is my new favorite because it packs a punch of hydration and a gorgeous, but subtle pink pop of color.
4) Covergirl Natureluxe Silk Liquid Foundation in Alabaster
Words can't say how much I love this
foundation. I've been using this faithfully since December and my only regret is that I didn't try it sooner! I've always struggled to find foundation shades that look natural on me (I'm way paler than I look!) and Alabaster is my perfect fit. The coverage is PERFECT. On the lighter side. (I consider it medium coverage, but some would say light) I love it because it's such a breathable, natural foundation and makes you skin feel like silk. I mean it! You won't want to stop rubbing your face!
5) Maybelline's Color Tattoo Metal Eyeshadow in Barely Branded
You can read my review on this
product
here.
This is my go to eyeshadow now because it's very natural looking, but also helps to brighten my eyes and make me look more awake.
6) Maybelline's Color Whisper in Lust for Blush
This is my latest beauty buy and my new love.
Such an amazing lip product. Very much like the Revlon Lip Butters, but I actually find these more hydrating and love the color selection. I'd heard lots of rave reviews on Lust for Blush and now I see why! It's a very natural, but gorgeous shade! Totally a my-lips-but-better product//color!
7) Deborah Lippman Nailpolish in GNO
I received this as a sample with a purchase I made at Beauty
Brands last summer, but until now I hadn't broken out this little beauty. This is a gorgeous, soft, shimmery pink and I love, love, love it!
8) Urban Outfitters Nailpolish in Moonstone
I never would have guessed it, but Urban Outfitters has amazing
nailpolish! They have gorgeous colors that I consider to be more unique (You wouldn't just find them anywhere), the color stays on your nails quite a while, and they were only $5! This shade isn't very springy, but I've been wearing it anyway because I think it's beautiful!
9) Maybelline Bouncy Blush in Rose Petal
Everyone raves about these, and for good reason! These
have such a unique, fun texture and go on beautifully. They have great lasting power too! Rose Petal is a very natural peachy, pink shade.
10) Urban Outfitters Nailpolish in Smush
Of course you've got to have a mint blue nailpolish for
spring! This one makes me feel so on trend. :)
11) Revlon Lipbutter in Strawberry Shortcake
I wore this lip product all of last summer and I imagine
I'll be reaching for it a lot again this spring//summer.
12) Maybelline Vivids Lipstick in Pink Pop
I felt so daring and adventorous to buy this lipstick and
I'm glad I did! I've never ever worn a bright lipstick because quite honestly I never felt confident enough too. But now I do it with sweet abandon and I don't care what anybody else thinks because I love it! Lip products have always made me happy and this one makes me smile extra big. :D
What are some of your spring beauty essentials?
Xoxo, em