I awake suddenly and take a deep breath in. Rolling over to glance at my clock I see that it's exactly two minutes until my alarm would go off. Perfect. I love how I've adjusted to this new schedule and how I always seem to wake up just before my alarm. I glance to my window and even though the blinds are down, the outside world glows a soft shade of blue. It's still dark out, but sunrise is nearly upon us. I roll out of bed and can't help but shiver a little as my feet touch the floor. I always hate to leave my warm, cozy bed on mornings like this. I go through the necessary motions: putting on gym shorts, pulling my hair into a high ponytail, turning on the laptop, grabbing a pair of weights. Then I happily sweat it out for the next half an hour. I take turns switching between my favorite workout gurus, the Tone It Up girls, Katrina & Karena, and Blogilates instructor, Cassey Ho. By the time I finish the sun is just peaking over the horizon and I'm ready for breakfast. Upstairs I pull out a pan and go about making my favorite breakfast, oatmeal. You won't see me making my oatmeal in the microwave though. No sir! It wasn't until just last year that I got hooked on stove cooked oatmeal. It's become a must-have in my diet and I make it 4-5 mornings a week. I've loved experimenting with all of the different things you can add to your oatmeal. Last week I came across my favorite combo yet.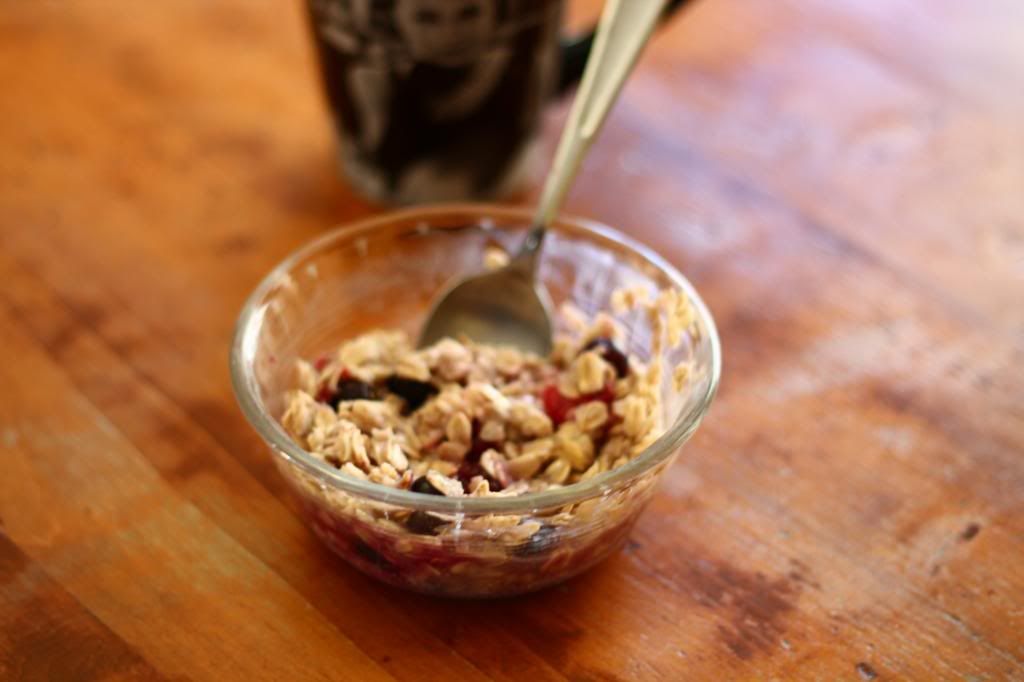 Em's Favorite Sunrise Oatmeal
Ingredients:
1/2 cup water
1/2 cup old fashioned oats
frozen organic mixed berries
almond milk (optional)
cinnamon (optional)
1) Bring 1/2 cup of water to a boil and then add in 1/2 cup of oldfashioned oats. Stir until desired consistency and remove from heat.
2) While you are waiting for your water to come to a boil defrost mixed berries in the microwave.
3) Pour oatmeal over berries and add toppings of choice. (Mine were a touch of almond milk and a dash of cinnamon.)
I place my oatmeal and lemon water on the table and pull up the blinds. Sunlight cascades into the kitchen and casts beautiful colors across the table. I whip out my camera and snap away for a few minutes before finally sitting down to enjoy my breakfast. Before I can take my first bite though, I hear the sweet meows of my kitty on the porch.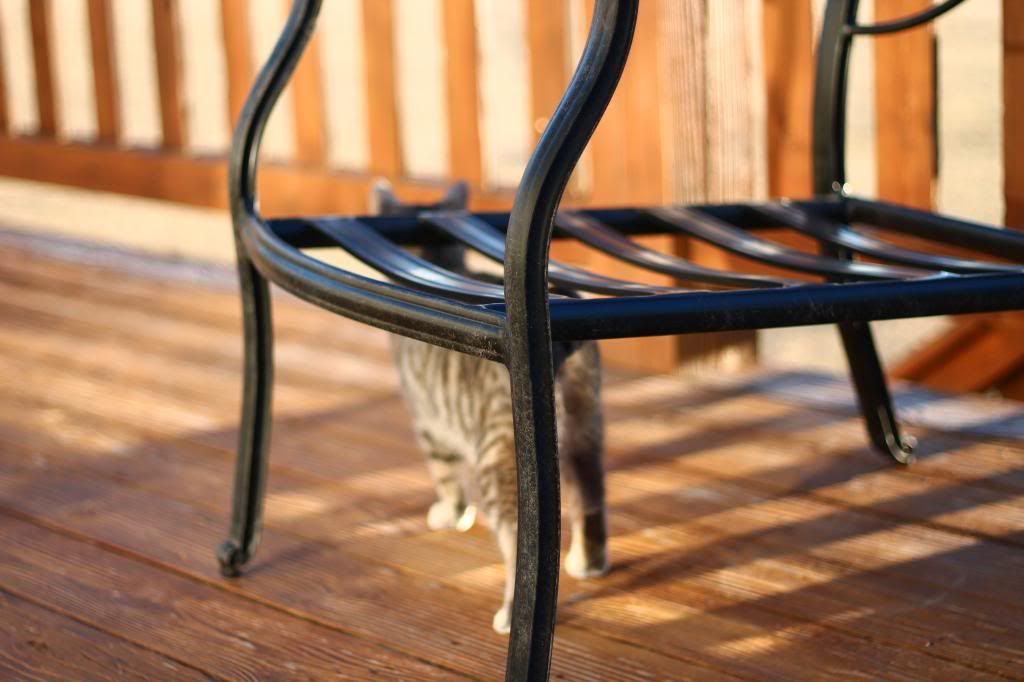 Sweet Fern. I scoop her up and give her a good morning hug before placing her back down to play. She scampers around the porch and stops to squint in the bright sunlight.
At last I step back into the kitchen and finish my breakfast as the sun finishes rising.
The stillness of early mornings has become one of the new loves in my life. I relish the sunrise, the stillness when the world seems to still be asleep, and how "my girls" greet me eagerly each morning for their breakfast.
Tomorrow afternoon I will be boarding a flight by myself, bound for Nashville, TN. The last few days have been a flurry of packing, working ahead on schoolwork, and last minute preperations. I'll be spending the next six days with one of my best friends. I haven't seen her in nearly six months and I'm absolutely over the moon about my trip. There are no words for the excitement I feel that tomorrow is the day that I will finally see Brie again!
I've arranged for my little blog to be taken care of while I'm gone and am really delighted with the awesome lineup of guest bloggers that I have!
Saturday-Olivia
Wednesday- Olivia
*Olivia is my elder sister. While she's never blogged before, she has a true gift for writing, so I can't wait to see what she comes up with!
I will get back on Valentines Eve and hope to get a post together in time for Valentines Day!
xoxo,em