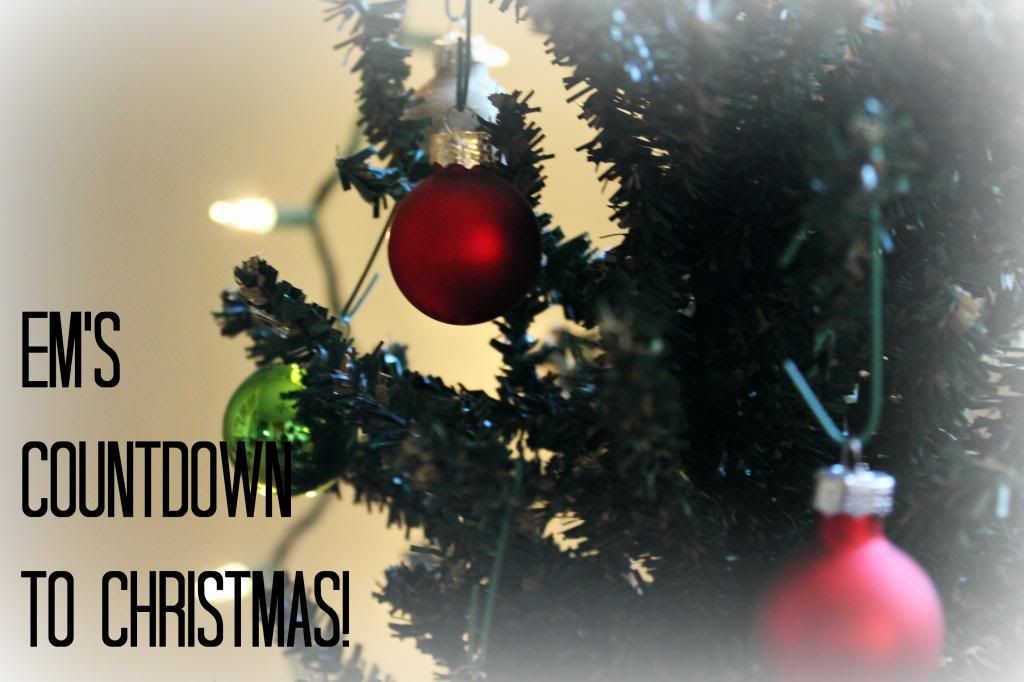 Can you believe that Christmas is in a matter of days?! Our beautiful Christmas tree has been piled high with precisely wrapped presents, (Haha, on a side note can I just say that I stink at wrapping this year! My gifts look really pathetic compared to my awesome sisters! :)), I've been nibbling on a Christmas cookie here or there, finally finished my Christmas shopping, and WE GOT SNOW!! I love when you pull up the shades on your window in the morning and look in surprise at the icy wonderland that seemed to magically appear overnight. I love when you first step outside and the snow is still untouched. It seems so perfect, white, and fluffy. And most of all I love how the sunlight dances on the snow outside my window and turns it glorious soft shades of rosy pink.
I was pretty shocked to find out that last months
November Inspiration
was one of my most viewed posts ever. I have to say though that that was probably the most fun I've ever had writing a blog post! Maybe it will become a monthly thing. :)
What I'm loving in December, plus inspiration to get you through the last week!
Gorgeous handbags. Forget little studded clutches, I'm not going to any black-tie holiday parties. Lets be realistic here, shall we? The perfect bag should be big enough to hold all of your stuff, comfortable to carry around all day (Don't pick a bag that weighs five pounds before you even put all of your stuff in it!), and should also be something you positively love. (Not something you're going to get sick of.)
My favorite bag of the moment is:
My Black Poppy Double Pocket Satchel from PacSun. I hunted for a purse exactly like this for about a year and when I laid eyes on it I knew we were meant to be together. I love it to death because
a) It's super practical. I can carry it year round if I want to!
b) Its light and comfortable to carry.
c) I have the choice of carrying it on my shoulder or crossbody. (I prefer shoulder)
d) I FINALLY have a bag big enough the carry all of my stuff! (I'm no minimalist when it comes to packing my purse!)
Wherever you look every girl is wearing boots! Whether they're black or brown or colored, ankle length or knee high, heels or....not heels, it doesn't matter so long as you have a really great pair of boots! I prefer boots tucked into my favorite pair of skinnies. :)
Now for some really special holiday outfits and pieces:
Jewel Encrusted Pumps by Christian Louboutin ♥♥ These are such special shoes that will definitely catch peoples eye. If your outfit is fairly simple then go for some blingy shoes or maybe something brightly colored or with a bow.
Everyone knows that sequins just make life better! :) Seriously though, sequins are the bomb during the holiday season! My favorite are sequin dresses or if you want to go subtle then nothing looks better than a sequin tank top under a blazer!
Call me crazy, but I find this sweater totally adorable! Christmas sweaters don't always have to be tacky or uh, tacky, they can be really cute!
Gorgeous alert!!! This coat is a real showstopper. The rich jewel toned purple can be immensely flattering, the silhouette is feminine and sweet, and there is absolutely, positively nothing cuter than having some pink tulle peak out at the bottom of your coat! (Or really anything for that matter!) I. want. this. coat.
This red tulle skirt is such a special piece and totally perfect for the holiday season!
Now regarding beauty and hair...
Candy cane nails! Oh yeah!
Shimmery eyes!! Preferably in a luscious shade of champagne or gold.
I've heard really great things about the Maybelline Color Tattoo eyeshadow in gold. It's basically just a really long lasting cream shadow. After seeing so many beauty vloggers use it I'm thinking of getting some for myself.
Jen and Selena are both wearing similar versions of my alltime favorite look. Smokey eyes, slightly contoured or soft pink cheeks, and soft pink lips.
My favorite way to wear my hair is in curls. Somedays its more precise curls, but mostly its soft, beachy waves. Lately I've been switching my part to the other side to get more volume, and I'm loving it. I just love the dramatic part/swept over hair. (Haha, think DJ Tanner in highschool)
And of course, buns. :)
Some other favorites of mine:
Videos:
Songs:
Much love and Happy Friday dear followers!

xoxo, em