Hello lovelies,
Here is the winter edition of my favorite Bath and Body products! I'm sure many of you remember my summer edition of my
favorite bbw products.
With nearly 200 views, it's my most viewed post, so I decided it would be fun to do a winter edition! *These are the first photos I've posted on here that were taken with my 50 mm. lens! I'm head-over-heels in love with it and have been taking so many pictures! Lots of posts + a holiday overview are coming soon!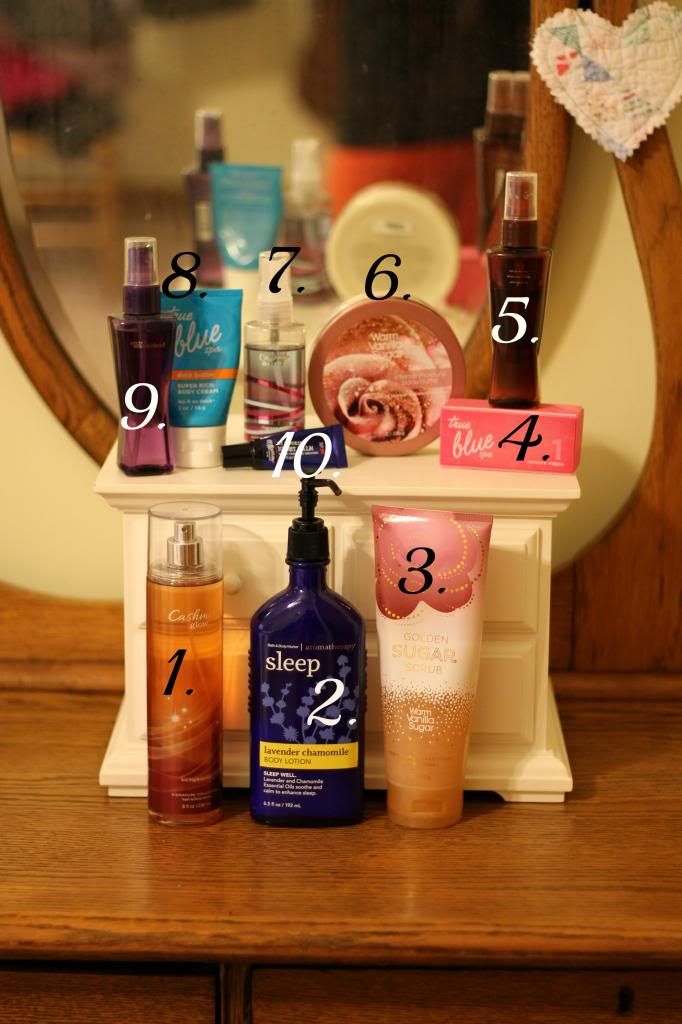 1. Cashmere Glow Perfume I'm so obsessed with cashmere glow! It's one of my all-time favorite scents! This perfume is super luxurious and perfect for the winter time, although I'm sure I will wear it all year round!
2. Lavender Chamomile Sleep Lotion Love of my life. I've worn this faithfully every night for over two years now.
3. Golden Sugar Scrub in Warm Vanilla Sugar All of the BBW scrubs are super delicious and feel AMAZING on your skin! They start off how you'd imagine a scrub to be, but then it transforms into this super smooth moisturizer that feels like you're rubbing silk on your skin!
4. True Blue Spa Buffer (not sure the exact name of this) I'm not fore sure if BBW still sells this, but if they do then I would definitely recommend getting one! I've had mine for quite a while and they hold up incredibly well. It has four sides with numbers telling you the order to use them. It smooths your nails to perfection and makes them look like you're wearing a clear coat of polish!
5. Warm Vanilla Sugar perfume. I love investing in the travel size bottles of perfume because:
a. They can fit in your purse or just about anywhere!
b. If you don't love the scent, then you're not stuck with a huge bottle of perfume that you're never going to wear.
and
c. Even the little bottles last a long time!
This is the perfect scent for the wintertime.
6. Warm Vanilla Sugar Intense Moisture Body Cream I just received this stuff for Christmas and I'm already in love with it. I'm all about anything that moisturizes for the wintertime, so this was the perfect gift for me! Plus I love the scent. :)
7. Carried Away Perfume A really lovely year-round scent that's not too heavy, but not too light.
8. True Blue Spa Super Rich Body Cream Another one of my BBW addictions. Seriously, I couldn't live without this stuff. It is the only thing that has truly taken care of my dry skin this winter.
9. Secret Wonderland Perfume Isn't that just the loveliest name? Especially for the wintertime? The name alone makes me want to use this perfume! But really, its a yummy, slightly sweet scent that just smells like magic.
10. My Favorite Nightbalm No seriously, that's its name. I would say that his is tied for first place along with the Super Rich Body Cream. It's amazing and has helped me to fight dry lips.
*I realized after shooting this picture that I forgot to include one of my alltime favorite products/scents! The Forever Red perfume is out of this world and so worth the extra money! I LOVE mine!
Much love,
xoxo, em