Hello loves,
So yes, it's Pinspirational Tuesdays!! I don't just want today to be Pinspirational though, I want today to be Inspirational! What if we took one day each week to just get inspired? To step back and look at our life, see how things are going for us. What do you love about your life? What do you strongly dislike about it? Here's the thing, I know sometimes we forget, but you have the power to change things! Of course, ultimately God is in control of your life, but please, please don't forget that prayer IS powerful! Prayer has the power to rock your world!! So let it happen! I know, I know, we're teenagers, we have life's, we get busy, especially now with school and activities wrapping up, and all of the end-of-semester hoopla. But NEVER get so busy and wrapped up in your life that you forget to pray! If you are so busy living your life, but you don't have time for God, then what are you living for? Now don't feel guilty if this has happened to you. It happens to all of us at one time or another. But now is your time! Don't let another day go by without prayer, without talking to God! Go right now, before you do anything else, and spill your heart to the Lord! When you are with the Lord, there is no one else around. There is one to impress. It is a time to be absolutely 100% you! So whatever it is that's been weighing you down, whatever it is that you just can't talk about with anybody else, bring it all to the Lord!! He wants to hear EVERYTHING!! Even those tiny little details that nobody else cares about are important to him!
Okay wow, I have no idea where that came from! Normally I don't get so deep with you guys, but I'm trying to be a little better about just writing whatevers on my heart.
Allrighty on to Pinspirational Tuesdays! :)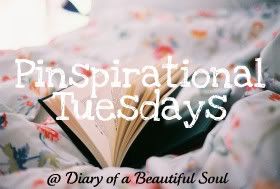 First off we'll have some lighthearted fun, because we all need our laugh of the day! :)
And my personal favorite:
Because don't we all feel like this sometimes?
Pretty sweet right? :)
CUTIE!!
Aww, I love it when cats do this! :)
How can you ignore that face??
I was recently assigned by my small group leader to pick out a life verse. This is mine:
Isn't that beautiful? This is the best advice, and I feel like it can apply to most situations. This is what I strive for in life. Hope, happiness, patience, and never ceasing to bring it all to God.
Do you have a life verse? If you don't then I'm going to challenge you to find yours! When you find yours I would LOVE it if you shared it with me!
And now my lovely followers, if that failed to inspire you, then here's a list of ideas, to help you get a fresh dose of inspiration!
*Read your Bible! Pray before you open it. Ask God to guide you, to see things in a new light, to read things you never noticed before, and hopefully even to find your life verse!
*Go outside. Bring your camera, a notepad, or a snack if you prefer. Go barefoot if you like. Pay attention to the little details. Don't let anything go unnoticed. Look at the sky. What are the clouds like. Listen. What do you hear? Feel the lush green grass, smell the delicate flowers, listen to the birds, feel the hot sun or the cool breeze.
*Get cooking! I almost always feel inspired when I cook. You don't even have to follow a recipe if you want! Put on an apron, pull back your hair, grab your camera and cook! Pretend you are one of those amazing chefs from Food Network! :)
*Go on a picnic! (Need I say more?)
*If you're into hair and makeup then go to YouTube! You'll be amazed with how many tutorials there are! And when you find someone you like stick with them!
*Into reading? Go to your local library! Explore! Go to sections you wouldn't normally go too!
*Like working out? Go to Tone It Up. com or to their YouTube page (simply called tone it up as well). It's made up of two female trainers from southern California named, Karena and Katrina. I LOVE their workouts!! They are so, so fun!
I could go on and on, but I really have to go now! Love you all! Hope you enjoyed todays post! Sorry for all of the rambling!
Much love,
Em