Hello loves,
Today I'm linking up with
Jessica
from Diary of a Beautiful Soul for Pinspirational Tuesdays!! So excited to finally do this! :)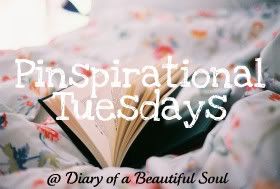 Trampoline tent for summer, perfect for summer sleepovers. Whoever invented this is a genius!
I love how they got the cat from three different angles. I need to try this sometime with Cali.
I repinned this outfit from Jessica. :) We seem to have similar taste, because I'm always loving everything she pins! Haha, sorry if I seem a bit stalkerish Jessica! It's just that everything you pin is so me! :)
Yes, I will!! ....... someday.
I love this quote so much. The first time I saw it I wanted to cry.
Does anyone else ever think this? Because I sure do!
And there you have it folks! If you want to follow me on Pinterest here's the link :
http://pinterest.com/accordingtoem/
Much love and Happy Tuesdays,
Em