Okay all y'all, I'm starting a series of blog posts titled "Here's the Thing". Don't ask me how I came up with this name! Anyhow, these posts will be all about my dreams. Daydreams I mean. You know how we all have those things that we daydream about. It might be something big like meeting the queen of england or becoming a professional iceskater. Or maybe it's something little like getting a pair of red high heels, or making a fancy dinner. Anyway, I hope you all enjoy this because I'm super excited!
~
Here's the thing...
I want to stay here. Or better yet I'd like this to be in my backyard. Okay,if you're a little confused that's okay. This is an outdoor tent in Moscow, Idaho. Ever heard of a magazing called "Mary Janes Farm"? Well if you haven't, you should read it. It's one of my favorite magazines and I just love it. Anyhow, Mary Jane has a bed and breakfast. But it's not just any bed and breakfast. It's o u t d o o r.
You get to stay in these darling tents. You get to cook and bathe outdoors. You get to help out around the farm and go on hikes.
Isn't this showerhouse just adoreble?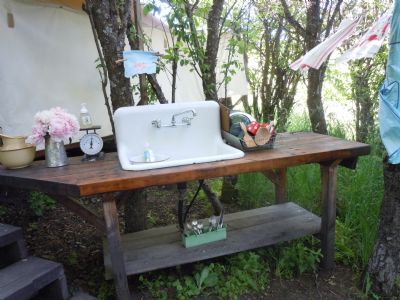 The best part is that Mary Jane even tells you how to make you own outdoor canvas tent! Of course it would take a LOT of work, and it will probably never happen.... but I'm still in love with the idea. No matter what I've decided that one day I will go to her bed and breakfast and stay... maybe forever. :)
Mary Jane's Farm
is amazing! Check it out!
Love you all! Have a wonderful week!
~Em